The North Dakota 4-H Shooting Sports Program sent a team of youth representatives to the 4-H Shooting Sports National Championships held the week of June 26 in Grand Island, Nebraska.  The championships are attended by state qualifying teams and individuals representing the best in each state's 4-H shooting sports program.  The event is a multi-discipline stage including archery, air rifle, small bore rifle, shotgun, hunting skills, muzzleloader, and pistol.  Each discipline has three competitive matches over the week and the competitors receive individual and team awards for each competition. An overall match award for the cumulative scores of the discipline are given to the participants on the last day.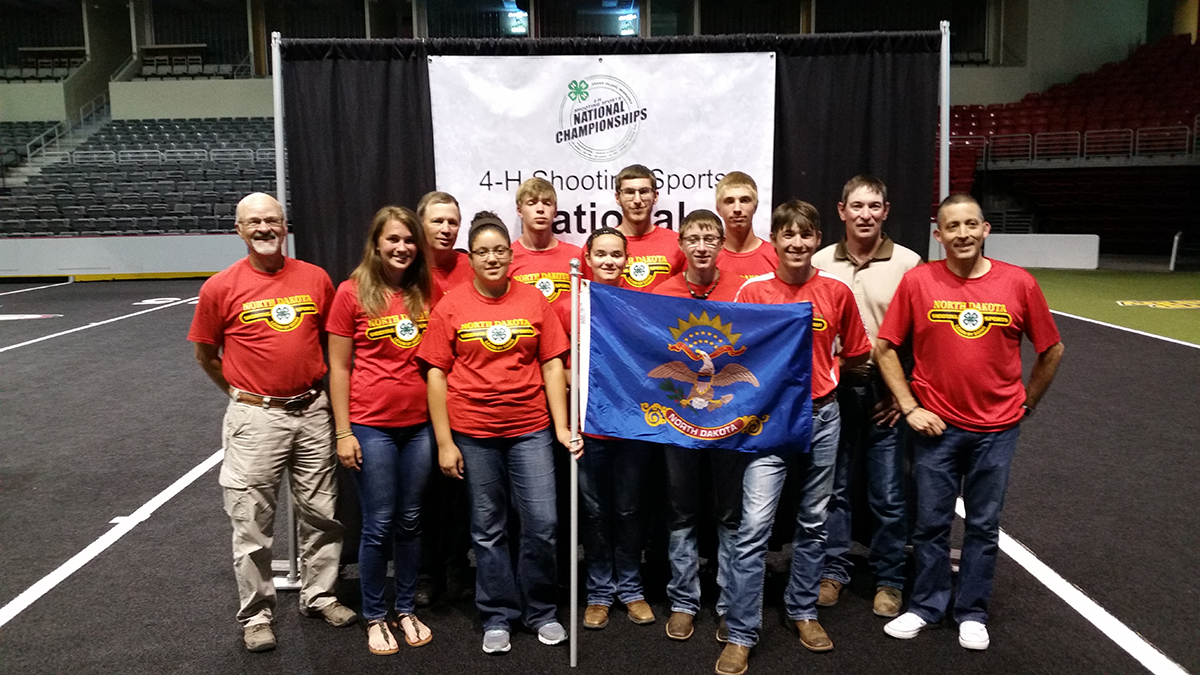 North Dakota 4-H shooting sports participants earn the privilege to attend the national championships by being a member of the highest placing team or achieving a qualifying score individually in a discipline in a state qualifying match.  Attending the national championships is a culmination of years of dedication and effort by participants and coaches. Youth can only participate once in their lifetime in that discipline at the championships.
The North Dakota team has a history of competing well in individual disciplines at the 4-H National Championships.  This year was the strongest representation in multiple disciplines in the history of the program.  Ramsey and Stark County clubs sent individuals in small bore rifle, air pistol, and black powder competitions. Ramsey County Shooting Sports Club was represented in compound archery by Erin Morstad, Christopher Morstad, Shaelynn Tofte, and Mason Hanson. Maria Rosa-Nieves and Brandon Alexander in small bore rifle, and Max Shuh in air pistol. Ramsey County coaches were Jose Figuero-Diaz and Rick Jorgenson in air pistol and small bore rifle. David Morstad was the Ramsey team archery coach.   Stark County Shooting Sports was represented by Kail Larson in the black powder match. Eudell Larson was the blackpowder discipline coach for Stark County.
The overall small bore rifle competition results included Ramsey County's Brandon Alexander placing fourth and Maria Rosa-Nieves in sixth place.  Individual match finishes included Brandon in 12th place in silhouettes, 8th in the CMP 3 Position slow/rapid-fire, and 2nd in the 3 Position 50 yard match.  Maria placed tenth in silhouettes, 28th in the CMP 3 Position slow/rapid-fire, and fifth in the 3 Position 50 yard competition. There were 82 participants in the small bore competition.
Max Shuh from Ramsey County participated in the air pistol competition. Max finished 11th overall individually. His top finishes include fifth in the rapid fire, 22nd in silhouettes, and third in the air pistol slow fire competition. There were 62 participants in air pistol.
Kail Larsen from Stark County finished fifth overall individually in the muzzleloader.  Kail placed first in the 25 yard novelty shoot, second in the 50 yard bull match, and 15th in the silhouette match. There were 57 participants in the muzzleloader event.
Ramsey County's archery team of Erin and Christopher Morstad finished 34 and 35th respectively as individuals in compound archery.  Shaelynn Tofte finished 67th and Mason Hanson in the 86th place.  Overall, the archery team finished in 14th place out of 25 teams. Individual discipline high finishes included Erin Morstad placing in 13th place in the FITA and 22nd in field archery. Chris in 14th place in FITA and 40th place in field archery. There were 100 archers in the compound archery competition.
The post North Dakota 4-H Shooting Sports Team to 4-H Shooting Sports National Championships appeared first on Civilian Marksmanship Program.
This content originally appeared at text and was written by admin This content is syndicated and does not necessarily reflect the views or positions of The Liberal Gun Club