By Ashley Brugnone, CMP Writer
TALLADEGA, Ala. – John Lenz, 54, of Freeport, FL, was the overall winner of the 800 Aggregate Match at the Civilian Marksmanship Program's (CMP) Talladega Marksmanship Park, with a score of 753-13x. His son, Jacob Lenz, 19, followed his father's noteworthy performance by becoming the High Junior of the match as he fired a score of 721-8x.
A 1,000 Aggregate Match was also held at the park, with Brian McElhaney, 47, of Pembroke Pines, FL, topping the Match Rifle competition with an overall score of 972-36x. Jonathan O'Neal, 43, of Marietta, GA, led the Service Rifle division with a score of 970-29x.
Both matches were held Sunday, Feb. 5, 2017, on the 600-yard range of CMP's Talladega Marksmanship Park, which is fully equipped with electronic scoring targets. The aggregate matches are challenging tests of shooting endurance that are open to competitors of all ages and experience levels.
The 800 Aggregate Course of Fire includes 20 shots of slow fire standing at 200 yards, followed by 20 shots of rapid fire sitting at the same distance. The next stage features 20 shots of rapid prone at 300 yards, and competitors finish with 20 shots slow fire prone at 600 yards. The 1,000 Aggregate Course of Fire mirrors the 800, with an extra stage of slow fire prone added at 600 yards.
Aggregate events are held monthly, with the next 1,000 Agg. matches scheduled to be fired March 4 and April 1-2. Future 1,000 Agg. matches are set for Aug. 26 and Oct. 7-8, with some also featuring a coinciding EIC Rifle event.
Other upcoming matches at Talladega Marksmanship Park include:
February:
Feb. 18 –  USPSA – Practical Pistol event
Feb. 25 –  IDPA – International Defensive Pistol event
Feb. 25 – 3-Gun Match – Multi-gun (Rifle, Handgun and Shotgun) transitional event
March:
March 4 – 1,000 Agg.
March 12 – Bullseye Pistol
March 18-19 – International Rifle & Pistol
March 25-26 – Project Appleseed Clinic – Rifle learning event 
April:
April 1-2 – 1,000 Agg/EIC – Rifle
April 1 – EIC Pistol/.22 Rimfire Pistol Match
April 22 – Garand-Springfield-Modern/Vintage Military (GSM) Rifle Match
April 22 – Carbine Rifle Match
For more about Talladega Marksmanship Park events, including registration info, visit http://thecmp.org/competitions/matches/.
To view a complete list of results of the 800 and 1,000 Aggregate, check the CMP Competition Tracker page at https://ct.thecmp.org/app/v1/index.php?do=match&tab=results&task=edit&match=14959.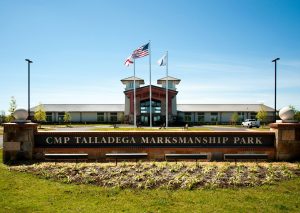 About Talladega Marksmanship Park:
The CMP Talladega Marksmanship Park is one of the most advanced outdoor facilities in the country. Boasting the latest technological advances in the realm of marksmanship, including electronic targets and scoring monitors, it is a must-see destination for firearm supporters across the country. The park is open to the public, year round.
The post Lenz Boys Overtake Talladega Marksmanship Park 800 Aggregate Match appeared first on Civilian Marksmanship Program.
This content originally appeared at text and was written by admin This content is syndicated and does not necessarily reflect the views or positions of The Liberal Gun Club