By Ashley Brugnone, CMP Writer
On March 30, the Civilian Marksmanship Program (CMP) wrapped up the first of four quarters of its Aces Postal competition. Nearly 200 air gun competitors fired upon paper or electronic targets at their home ranges to be scored by the CMP and compared alongside other competitors from around the nation.
Given its name from the distinctive poker chip sent to each participant who fires in the match series, the 1st Quarter of the postal competition began in October 2016. Both rifle and pistol junior and adult competitors of all skill levels may choose from a variety of 3x20 and 60 Shot air gun events.
Over 160 juniors entered the satellite sporter and precision 3x20 matches, combined, with Hailey Smith of Winthrop Harbor, IL, overtaking the sporter match with a score of 563-22x, as Adriana Hickerson of White Bluff, TN, topped the precision match with a score of 588-40x.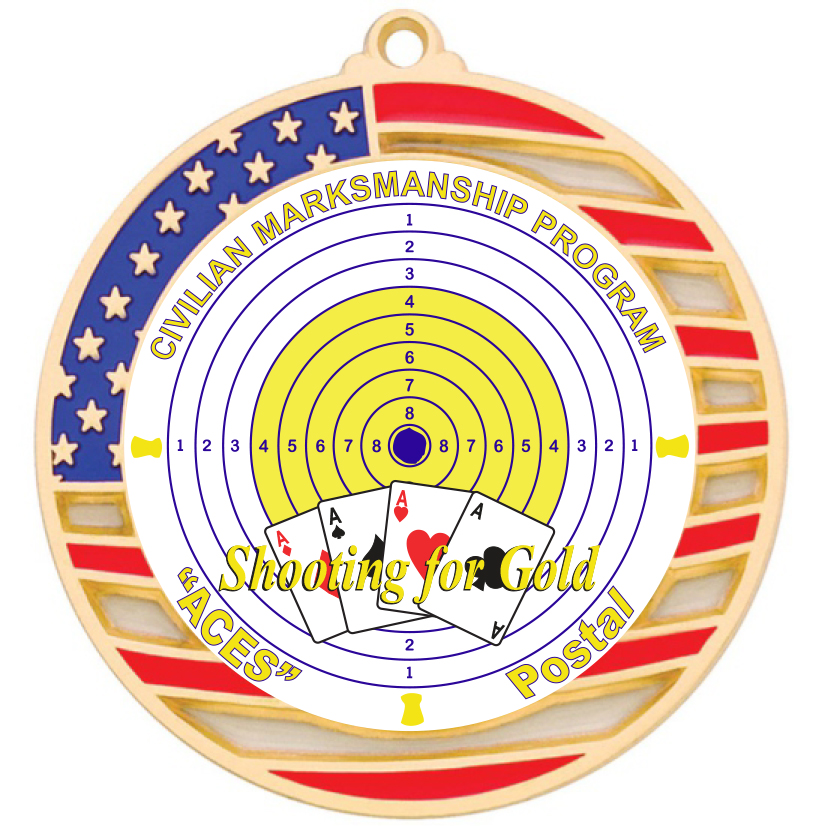 Of the nearly 30 competitors in the adult sporter and precision 3x20 events, CMP's own Chance Cover fired a score of 592-49x to win the precision match, while MSgt Stuart Casselberry recorded a score of 551-15x to control the top spot of the sporter division. MSgt Casselberry also overtook the 60 Shot pistol match with a score of 563-14x.
In 60 Shot rife action, junior Daniel Enger of Walla Walla, WA, was the overall winner with a score of 616.5.
For a complete list of 1st Quarter results, visit https://ct.thecmp.org/app/v1/index.php?do=match&tab=results&task=edit&match=14776.
Registration and record firing for the 2nd Quarter series of events closes on June 30, 2017. Sign up now for your chance to compete against other air gun athletes and to receive an exclusive Aces Postal poker chip! To register, visit the CMP Aces Postal page at http://thecmp.org/air/cmp-aces-postal/.
About the Aces Postal:
Since January 2015, the Aces Postal has attracted hundreds of men and women, boys and girls, of all ages, to compete against one another without ever having to leave their hometown ranges.
The Aces Postal offers four separate quarters of a variety of competitions for assorted sets of rifle and pistol competitors, including:
Rifle:
For Juniors (18 and under):
3x20 Sporter Junior
3x20 Precision Junior
Adults (19 and older)
3x20 Sporter Adult
3x20 Precision Adult
Open to All Ages:
For Paralympic Competitors (Adaptive):
60 Shot SH1 Prone
60 Shot SH1 Standing
60 Shot SH2 Prone
60 Shot SH2 Standing
Pistol:
For Juniors:
PPP 40 Shot Basic Supported (max. age 13)
PPP 40 Shot Standing Supported (max. age 15)
PPP 40 Shot International Standing (age 15-20)
Open to All Ages:
60 Shot Open
For Paralympic Competitors (Adaptive):
60 Shot SH1 Standing
Along with wooden plaques awarded to overall winning competitors, ALL participants in the Aces Postal will receive an exclusive poker chip. Each quarter presents its own unique chip, so compete in each one and collect them all!
Current National Standard Three-Position Air Rifle Rules and USA Shooting Air Rifle and Pistol rules apply to all matches.
Results are posted online for each quarter. For more information on the Aces Postal, including scores and detailed explanations of each Adaptive Shooting category (SH1, SH2), visit http://thecmp.org/air/cmp-aces-postal/ or email aces@thecmp.org. You may also call 256-835-8455 ext. 600 or 445.
The post First Quarter Results Now In From CMP's Aces Air Gun Postal Matches appeared first on Civilian Marksmanship Program.
This content originally appeared at text and was written by admin This content is syndicated and does not necessarily reflect the views or positions of The Liberal Gun Club