Submitted by Andrea Miller, CMP-MD State Director
There was a great showing from all the Maryland shooters that attended this year's National Junior Olympic Championship held at the Olympic Training Center in Colorado Springs, CO.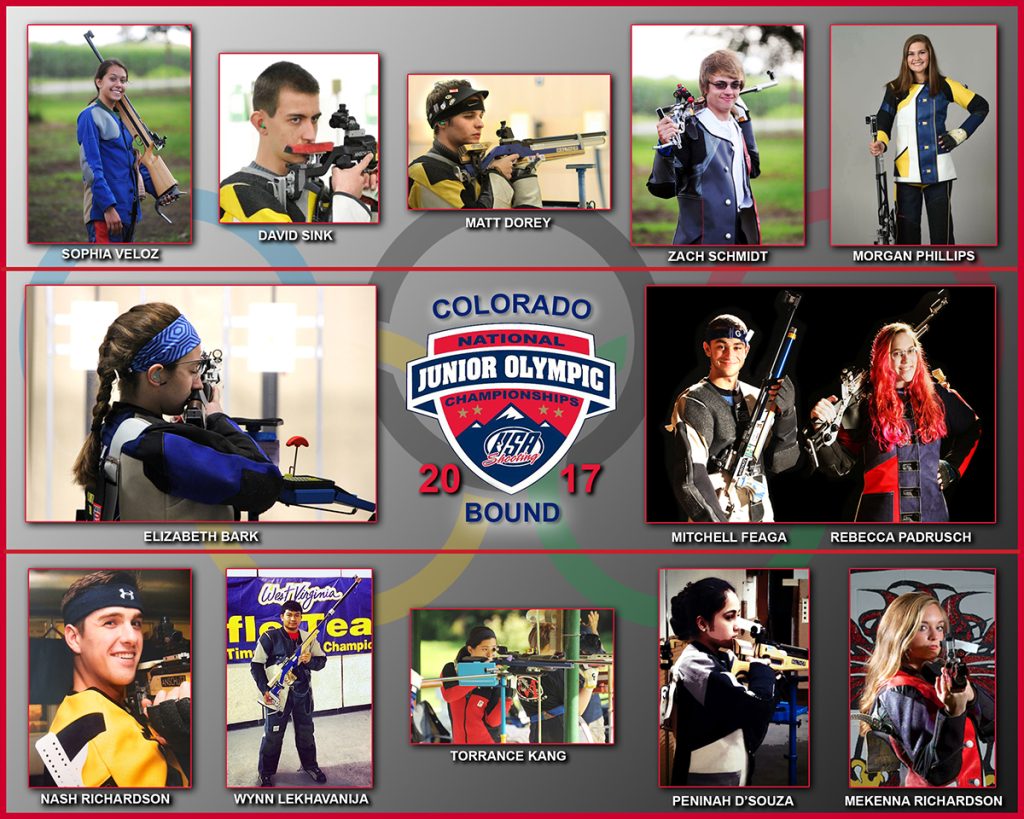 The Maryland USA Junior Olympic State competition was held this year on January 17 at the United States Naval Academy. From this competition, 13 juniors qualified in one or more of the following: 3-Position rifle, Air Rifle and Men's Prone. The clubs represented were Queen Anne 4-H Marksmanship Club, University of Akron, IWLA-Damascus Junior Rifle Club and Antietam Junior Rifle Club.
Morgan Phillips and Mekenna Richardson from Queen Anne 4-H shot in both Women's 3P Rifle and Women's Air Rifle, along with Torrance Kang from Antietam Rifle Club.
Elizabeth Bark from University of Akron shot Women's Air Rifle along with Rebecca Padrusch from IWLA-Damascus JRC. Joining them were Peninah D'Souza from Antietam JRC and Sophia Veloz from Queen Anne 4-H Marksmanship club.
Shooting Men's Air Rifle were Wynn Lekhavanija from Antietam JRC, Matthew Dorey and Nash Richardson from Queen Anne 4-H and Mitchell Feaga from IWLA-Damascus JRC. Matthew Dorey also shot in Men's Prone and Men's 3P Rifle. David Sink and Zach Schmidt were unable to attend because of conflicts.
Elizabeth Bark attends University of Akron in Akron, Ohio, Nash Richardson attends the United States Naval Academy, Mekenna Richardson attends Jacksonville State University, Jacksonville, AL, and Morgan Phillips attends University of West Virginia.
Torrance Kang has been accepted to the United States Naval Academy and will be on the rifle team, and Wynn Lekhavanija has been accepted at The Ohio State University and will shoot for the Buckeyes.
The post Colorado Bound 2017 – National Jr. Olympic Championship appeared first on Civilian Marksmanship Program.
This content originally appeared at text and was written by admin This content is syndicated and does not necessarily reflect the views or positions of The Liberal Gun Club