By Ashley Brugnone, CMP Writer
CAMP PERRY, Ohio – The Civilian Marksmanship Program (CMP) will be hosting an 800 Aggregate (80 shot) Rifle Match on Viale Range of Camp Perry on Sunday, November 12, and an EIC Service Rifle Match immediately following the same day. The 800 Agg. will begin at 8:00 a.m. Both matches are scheduled to be fired upon CMP's traveling highpower electronic targets, which were successfully used at Camp Perry back in June throughout an entire week of CMP Cup events. The November weekend will serve as an excellent opportunity for curious marksmen and guests to really see the targets in action.
Entry fee for the 800 Aggregate is $35 for Adults and $25 for Juniors, while the EIC Match is $30 for Adults and $15 for Juniors. Competitors may fire Match Rifles or Service Rifles. The matches are governed by current CMP Competition Rules, available for viewing and download at http://thecmp.org/competitions/cmp-competitions-rulebooks/.
Along with the matches on Viale, a GSMM Rifle Match will be held on Nov. 11 and 12 at 9:00 a.m. on Camp Perry's Petrarca Range, which also features CMP Electronic Targets with KTS technology. The GSM Match combines prone slow fire, prone from standing rapid fire and standing slow fire positions at 100 yards on 200 yd reduced targets. Competitors may compete with an As-Issued M1 Garand, Springfield, Vintage Military or a Modern Military rifle and may fire more than once through the duration of the event.
The Friends of Camp Perry (FoCP) will also be holding a Combat Rifle Shoot (a.k.a. Snowflake Shoot) on Nov. 11 at the Modified Record Rifle Range on base. The event will begin at 9:00 a.m. Competitors will fire 40 rounds at 40 targets, using no larger than .308 caliber ammunition (no full auto firearms). Food and beverages will be available, with registration opening at 8:00 a.m. Members may pay a $10 donation entry fee per relay, while non-members may pay $15. A $30 first relay donation fee is also available and includes an FoCP membership. Contact Ralph Reichman at (330) 468-1287 or ralph@friendsofcampperry.org for more.
To register and learn more about the 800 Agg. and the EIC Service Rifle Match, visit the CMP Competition Tracker page at https://ct.thecmp.org/app/v1/index.php?do=match&task=edit&match=16001.
To register for the GSM Rifle Match, visit the following link: https://ct.thecmp.org/app/v1/index.php?do=match&task=edit&match=15667&tab=registered.
For questions on either match, please email Christina Roguski at croguski@thecmp.org. We hope to see you there!
Lodging Specials:
OurGuest Inn and Suites, 220 E. Perry Street, Port Clinton, OH 43452
419-734-7111
Offering a CMP Match Special Rate of $39.00 for Friday and Sunday nights and $49.00 for Saturday night for two double beds, sleeper sofa and kitchenette in the room.
Clinton Inn & Suites, 1735 E Perry St, Port Clinton, OH 43452
(419) 734-5633
Offering a CMP Match Special Rate of $32.99 per night for that weekend for a double standard room.
About CMP Electronic Targets: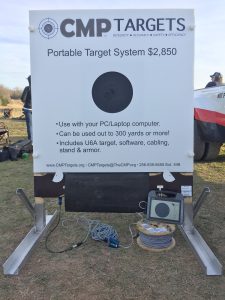 The traveling electronic targets are powered by Kongsberg Electronic Target (KTS) technology, where the targets determine shot location acoustically and immediately provide the shot value on monitors located beside each shooter on the firing line. The use of KTS technology not only provides fast and accurate response times, but also allows for quicker matches by eliminating the need for pit duty – a convenient way for young, elderly or physically weary competitors to continue to enjoy the sport. For info on rules pertaining to electronic targets, visit http://thecmp.org/wp-content/uploads/ESTScoringRules.pdf. For info on CMP Targets, visit http://thecmp.org/competitions/talladega-marksmanship-park/cmp-target-systems/.
The post CMP Sets November Highpower Rifle Matches at Camp Perry appeared first on Civilian Marksmanship Program.
This content originally appeared at text and was written by admin This content is syndicated and does not necessarily reflect the views or positions of The Liberal Gun Club