By Ashley Brugnone, CMP Writer
The Civilian Marksmanship Program (CMP) is now selling Gift Certificates that may be used towards any – yes, ANY – purchase within the CMP. Whether an entry fee, a sweatshirt or even the full price of one of the CMP's refurbished rifles, certificates can be a cost-effective and worthwhile gift for firearm enthusiasts.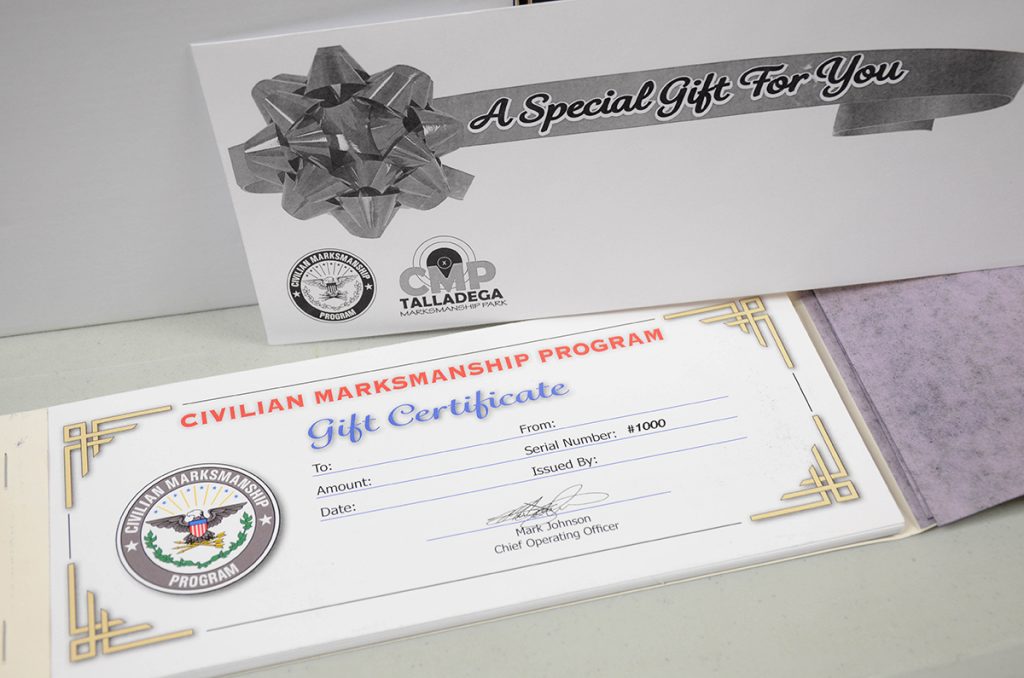 CMP Gift Certificates, printed on quality, full color paper, can be loaded with any amount, with a minimum of $20 and a maximum of $1,500. Purchase certificates by mail order or at any of the CMP ranges, including the air gun ranges in Ohio (Gary Anderson CMP Competition Center at Camp Perry) and Alabama (South Competition Center in Anniston), as well as at the CMP's Talladega Marksmanship Park in Talladega, Ala.
"Through the years, we have had many customers request gift certificates for Father's Day, Christmas and Birthdays. Until now, we have not been able to offer them," said Gina Johnson, general manager of CMP South. "We hope our customers take full advantage of their availability."
With learning and development opportunities available at all of the CMP's facilities, a gift certificate could also be applied towards open public Marksmanship Night fees at the air rifle ranges, daily activities at the CMP Talladega Marksmanship Park or towards events and memorabilia at the National Matches at Camp Perry. With no exclusions, the possibilities are endless!
Certificates are to be treated same as cash and are non-refundable and non-replaceable if lost or stolen and are valid for one year from the issue date. Gift certificates are only redeemable for goods and services not exceeding the remaining credit balance.
The CMP has so much to offer for all ages and experience levels. Now, with CMP gift certificates, supporting American shooting sports for current and future generations has never been easier. Pick up yours and share the gift of marksmanship today!
To order a CMP gift certificate by mail, download the CMP order form and send in Form 3A with payment.
The post CMP Now Offering Gift Certificates for Purchase appeared first on Civilian Marksmanship Program.
This content originally appeared at text and was written by admin This content is syndicated and does not necessarily reflect the views or positions of The Liberal Gun Club